Torbay is a lovely place to live. From the seaside to above-average summer weather, life is generally good in the Bay. But, like most places, it does have its crime hotspots. So, where are they? And where has CCTV in Torbay?
There were over 10,200 crimes reported in Torbay in the 12-month period from October 2017 to October this year. If that that sounds like a lot, it's because it is.
For home and business owners, probably the most shocking statistic is that almost 34% of these 10,000+ reported crimes were either Burglary, Criminal Damage, Arson or Theft.
Public CCTV in Torbay
On its website, Torbay Council states that it uses 215 CCTV cameras in public areas across Torbay, in order to help tackle crime. Some cameras in Torbay record 24 hours a day, particularly in Town Centres. All CCTV footage can be accessed by the Police and used as evidence against criminals or in civil cases.  
By law, you're also entitled to request any CCTV footage taken of you in any public place.
Business & Home CCTV in Torbay
Statistics on how many homes in Torbay have CCTV systems installed, and additional adequate home security measures in place, is hard to come by. Some national statistics suggest, though, that as little as 5% of homes in the UK have a CCTV system installed.
With one burglary committed every 76 seconds in the UK, paired with the dramatic rise in the national burglary rate over the last 18-months, a vast increase in the number of home CCTV installations is likely in the not-so-distant future.
Similar to Home CCTV, statistics on the use of Business CCTV specific to the Torbay area are almost non-existent. A study by the British Security Industry Association (BSIA) estimates that as many as 2.7 million CCTV cameras are in 'private control'.
The study lists shops, offices, warehouses, universities and zoos as just some of the types of establishments that are using CCTV as a deterrent and protection against crimes like burglary and criminal damage.
Torbay Crime Hotspots
According to UKCrimeStats, the leading crime and postcode data research organisation, the top five crime hotspots in Torbay are:
Tormohun
Roundham-with-Hyde
Blatchcombe
Ellacombe
St Marychurch
Whilst antisocial behaviour and violence account for a significant majority of total crimes reported in Torbay, burglary, criminal damage, arson and vehicle crime are also pretty prominent
If you want to find out more about crimes in your area, broken down by crime and plotted on a 'Crime Map', you can visit Police.UK and input your postcode. See this example below: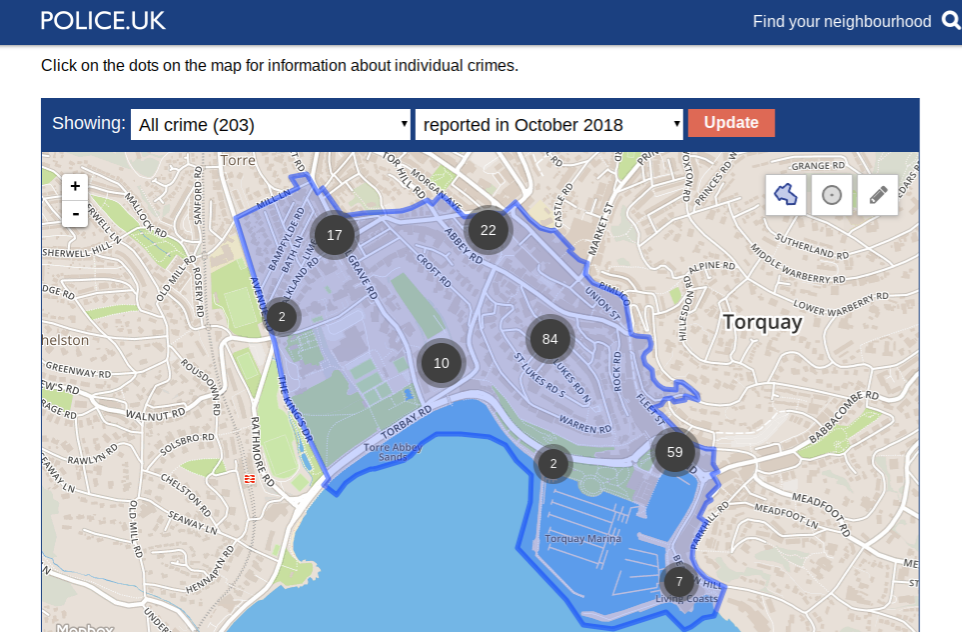 Protecting Your Home or Business in Torbay
Former, reformed burglars consistently highlight CCTV as their main deterrent. A study by Co-Op Insurance found that most burglars were opportunist thieves, and would avoid 'difficult break-ins' – such as houses with CCTV and adequate home security – in favour of 'easy pickings' and quick wins.
For as little as £500, you can protect your home and family, business and employees, from crimes such as burglary with a CCTV System.
If you're looking for CCTV in Torbay, speak to Security Junction today for your FREE, no-obligation quote.