Not only are livestock and horses expensive assets, they become part of the family. You'd no doubt do whatever you can to ensure their safety while you're not around. And who wouldn't want to protect their assets – livestock or otherwise? That's why you should be seriously considering Farm CCTV Systems.
CCTV Systems have a vast variety of benefits, with some nifty futuristic features, that land and livestock owners alike can benefit from. We've handpicked just a few that are more specifically beneficial to farmers, livestock owners or equine enthusiasts:
Theft Deterrent
As mentioned above, and as you'll know all too well, livestock and horses are expensive. The sad truth, then, is that they're also key targets for criminals. Even the most rural of locations aren't off limits to criminal gangs.
In fact, livestock theft in particular has steadily risen over the last seven or eight years. In 2014 alone, there was a 129% increase in livestock theft (according to Farmers Guardian). It's also been widely publicised that animal and pet theft, particularly dog theft, has also risen dramatically over the last few years.
Animals aside, farmland in particular tends to have a lot of expensive agricultural equipment and transport – from tractors to quad bikes – all of which are prime targets for thieves.
So whether you're a horse-loving hobbyist who wants CCTV installed at your stables, or you're a farmer or agricultural manager with livestock, take a look at our Farm CCTV Systems.
Remote Monitoring
Whether you're a farmer or equine enthusiast, there'll be times when you can't be there on-hand to keep watch over your animal(s). Be it at work, during the night or simply at home, you can't be by their side 24/7.
Even though you can't be there all the time, Farm CCTV Systems will enable you to keep an eye on your animal(s) and land anytime, anywhere – using just your smartphone or tablet.
It doesn't matter where in the world you go, all you need is an internet connection and you'll be able to access your CCTV System cameras whenever you want. We can even install 4G Routers or extend your existing broadband connection using high power WiFi bridges up to 7km line of sight. The Remote Monitoring functionality of our Farm CCTV Systems is particularly effective during foaling season.
Prevent Trespassing
Especially if you're a landowner with a significant acreage, the threat of trespassing and perimeter breaches can be stressful. Stressful because you don't know what the intentions of the stranger or strangers trespassing are.
Sure, they merely be walkers who've gotten lost. But, unfortunately their intentions could be much more sinister.
Farm CCTV Systems with adequate signage will act as a preventative measure for potential trespassers. In the event that one or more persons do trespass on your land, you'll have the video evidence you need to bring forward a prosecution.
Health & Safety
There has been a few highly-publicised fatal accidents on farms around the country over the last two years. The reality is that agriculture can be a dangerous profession. Health and safety of staff is paramount.
Farm CCTV Systems will enable you to ensure all members of staff, and any external contractors visiting your site, are 100% compliant – at all times – with health and safety standards you've set.
Similarly, if a claim of a health and safety breach is brought against you, CCTV footage will help you to emphatically refute any such claim.
Farm CCTV Systems from Security Junction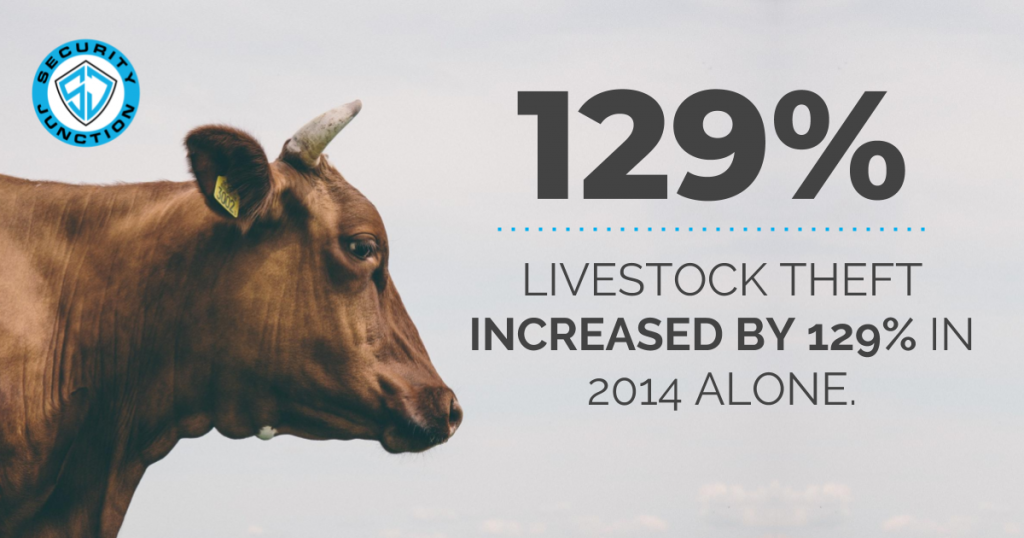 Our team of expert technicians can install Farm CCTV Systems to suit your requirements. From a single-camera system in a stable, to a multi-camera, more sophisticated setup spread across a large area of land, Security Junction can install, setup and maintain a system of any size.
Talk to a CCTV specialist today to get your FREE, no-obligation quote.