Your business is your baby. We totally get it. Years of blood sweat and tears. 14-hour days. The highest of highs, and a few rock-bottom lows that you'd rather forget. You'd do whatever you need to protect your baby from anything or anyone. Can you really do that without installing a Commercial CCTV System, though?
While you might be able to keep an eye on everything while you're at work, what about when you're not? There's senior employees you entrust to be your eyes and ears, sure. But, what about when they're not there, too?
With this in mind, installing a Commercial CCTV System is a no-brainer, for many reasons. There's a strong business case for what is, in the grand scheme of things, a relatively nominal investment.
Why Your Business Needs a CCTV System
Here are just a few of the most important we've handpicked:
1) Burglary, Theft & Shoplifting
You don't need to one of the 'big three' supermarkets like ASDA or Tesco to be a prime target for pesky crooks. In fact, criminals are increasingly targeting smaller retailers and commercial premises – largely or in part because: A) They're less likely to have adequate security measures in place, B) They see them as easier targets.
Whether it's a burglar or a petty shoplifter, deter them with a visible CCTV system… or catch them on camera if and when they try their luck.
2) Staff Collusion, Misconduct and/or Theft
Now, we certainly aren't trying to point the finger at your dedicated staff. Or pick holes in your recruitment policy. But, whether you like it or not, staff collusion and misconduct is a threat any small, medium or large business owner faces. Its part and parcel of being an employer.
Especially in today's modern world, with an ever-rising cost of living and other external influencing factors or stresses, even the most unsuspecting and conscientious staff can make bad choices at work – all at your expense.
3) Health & Safety
It's certainly true that everything's gone a bit health and safety mad over the last decade. You can't do this. Definitely do that. Whilst health and safety policies probably give you a headache, as an employer it's imperative to enforce health & safety measures.
Moreover, you need to make absolutely sure your staff comply, too. Do exactly that discreetly and effectively with a Commercial CCTV System.
4) Staff Protection
Richard Branson once famously said: "Clients don't come first. Employees come first. If you look after your employees, they'll look after your clients." Who are we to argue with the billionaire serial entrepreneur (who lives on his own private island)?
At the very least, it's a basic right for staff to work in a safe environment every day. A CCTV system is a big step in the right direction towards providing them with that. And as Mr. Branson says: look after your staff, and they'll look after your interests.
5) Vandalism
Unlike some other crimes, vandalism is likely to take place in the evening or at night when you're not around. As are burglaries and attempted burglaries, according to the Official for National Statistics (ONS). How else are you going to prevent perpetrators from vandalising your property, or bring the vandals to justice, if you don't have a Commercial CCTV System in place?
Let's also not forget that vandalism often goes far beyond a bunch of kids trying to be the next Banksy with a few cans of spray paint. Arson and criminal damage, that could cost you well into the thousands or more, are both forms of vandalism too.
6) Insurance Protection
Fraudulent insurance claims are on the rise. Unfortunately, we also now live in a world now were it's relatively easy – if not too easy – for someone to win an insurance claim against a business. In fact, the majority of us get nuisance calls actually asking us to submit a claim for accidents we may or may not even have been involved in.
And the reality is, without cold, hard evidence – insurance claims are likely to be paid out, rather than taking the costly route of fighting the case in court. A Commercial CCTV System will give you the hard evidence you need to support or denounce any insurance claim you make, or someone makes against your business.
7) Peace of Mind
We've talked about this before on our blog. It might seem trivial. But you, as a business owner, will know that peace of mind is often hard to come by – especially if you're a small business owner.  Between balancing the books and juggling long hours, you've got enough on your plate.
With a CCTV system in place, you can rest assured that digital eyes are keeping watch over your business and premises 24-hours-a-day, 365 days-a-year.
8) Monitor Your Business Anytime, Anywhere
Remote Access CCTV is your key to keeping tabs on your business, premises and staff – anytime, wherever in the world you are. All you need is an internet connection and your smartphone. Whether you're halfway round the world sipping a Corona in Cancun, or away at a conference, monitor the activities of your employees, customers and visiting suppliers with a few swipes of your smartphone screen.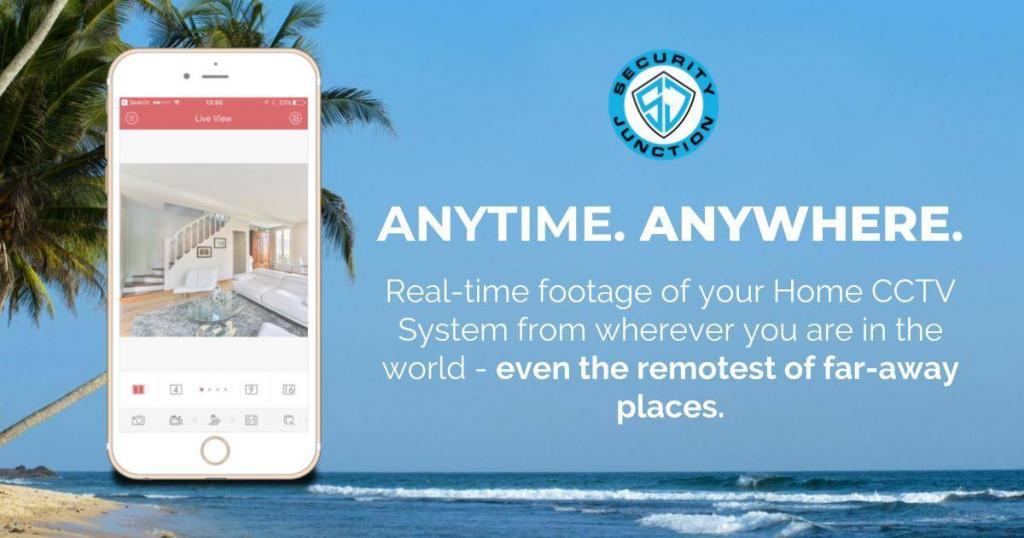 Key Features of a Commercial CCTV System
Now, we don't blame you for seriously considering installing a Commercial CCTV System for your business. We've given you eight reasons why you should. There are, admittedly, far more.
So what features can you – a business owner or leader – expect to benefit from with a state-of-the-art system from Security Junction?
HD Video:

Live and recorded High Definition (HD) video streamed directly to your device or desktop PC.

Remote Monitoring:

Access your system's cameras and footage anytime, from anywhere, with just an internet connection.

Live Streaming:

Watch everything in real-time by live streaming HD video – with absolutely no buffering (take that, Netflix!)

Multi-Device Compatibility:

Our Commercial CCTV systems are compatible with Windows, MAC and iOS devices. Get complete control using a mobile or desktop device.

Cloud Storage:

Say 'goodbye' to expensive servers. Record straight to the cloud using Google Drive, Dropbox or OneDrive.
See our full range of HD CCTV Systems here. Speak to one of our security specialists today for your FREE, no-obligation quote.